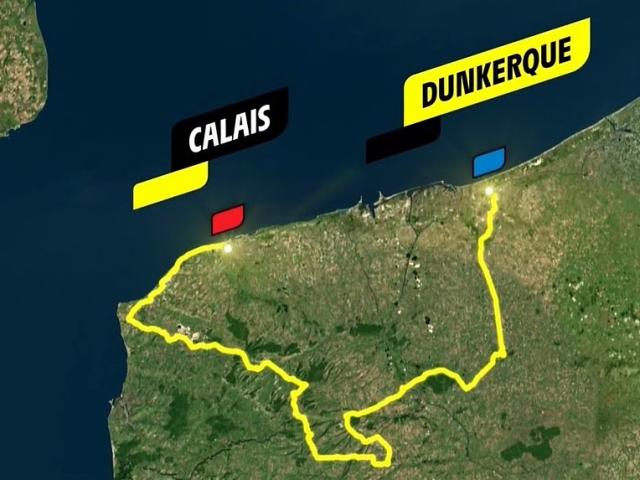 Tour de France 2022
4th stage : Dunkirk – Calais
Tuesday, 5th July
After three days of racing in Denmark and a rest day, the peloton of the Tour de France will leave the beach of Dunkerque – Malo les Bains for Calais on Tuesday 5th July 2022. After passing through Leffrinckoucke, the riders will officially start this 4th stage in Téteghem-Coudekerque-Village for a 172 km stage passing through Bergues, Wormhout, Cassel, Saint-Omer, Licques, the hills of the Boulogne area, Cap Blanc-Nez and Cap Gris-nez.
The start of the stage is broadcasted live in more than 60 countries. The beaches of Operation Dynamo and the renovated promenade along the beach are thus put in the spotlight worldwide.
A big party
The start of a stage of the Tour de France is the opportunity for a huge popular celebration. We love cycling here: we have three cycling clubs (Dunkirk, Grande-Synthe and Coudekerque-Branche) and 15 clubs for cycling tourism," says Patrice Vergriete, president of the district authority and mayor of Dunkirk. And the organisation of the Tour de France has awarded us the "Ville à vélo" label, a reward for our "Vélo+" plan to develop cycling in the metropolitan area.
Find more details about this stage here
At the beginning of July, the whole city will wear a stylish yellow jersey. "We would like the residents and shopkeepers to get involved and colour our town yellow. We are going to organise a tour before the Tour on 3rd July along the route that the pro cyclists will take. Other ideas will come up between now and July. This event should be a real people's festival to experience unforgettable moments together," said the mayor.
Cycling enthusiasts will be able to meet the riders of the Tour on the evening of Sunday 3rd July. Their buses will park on Place Paul Asseman. The publicity caravan will line up in the Grand Large district, while the technical vehicles will gather in the Citadel district (avenue de l'Université) and surrounding areas.